Wedding Caterers Services in Gaithersburg, MD
You've dreamed of getting married for as long as you can remember. Now let Key Ingredients Catering provide a menu that will allow you and your guests to indulge while you celebrate this momentous occasion. No matter the size of your wedding or number of guests you're expecting, we can design and deliver a menu that's bound to please.
A Perfect Experience Centered Around You
Your wedding should be the ultimate reflection of your personality. Small and quiet or big and loud? Formal and traditional or casual and trendy? We put you at the center of attention throughout the entire planning process and take the time to get to know you as an individual. What are your likes, dislikes and interests? Building a close relationship with Key Ingredients Catering means you'll be able to depend on someone who truly "gets" you.
We are Focused on What's Most Important To You
This is your special day. Let us help take it to the next level by creating a menu your guests will love. From tasty appetizers during your cocktail hour to an elegant sit-down meal, we'll cover all the details to ensure that you and your guests are well-fed. Have a favorite food item? We'll be happy to feature it. Have specific dietary requests or restrictions? We'll work around them. We want to help make this day as magical as possible, and we'll be more than happy to plan a menu that reflects your style and taste.
Make your wedding an event to remember. Call us today to learn more about our wedding catering services.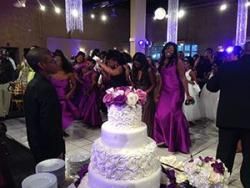 Your wedding will always hold a special place in your heart and in the hearts of everyone who attends. The time you spend with your family and friends - enjoying a meal together, telling stories, dancing the night away - will stay with you forever. This is why we do what we do. Everyone at Key Ingredients Catering is genuinely passionate about bringing people together to celebrate love and the tradtion of marraige. We do everything we can to make those memories special for you.
Open 24 hours a day, 7 days a week
Good food, fair prices and prompt delivery service.

The best catering experience ever! We used Key Ingredients for an event for 100. Javier is wonderful to work with and very understanding of changes along the way. The food tastes incredible! Arrived hot and stayed that way. Highly recommend for any size crowd.

- Diane Latham. 1/28/2020

- Maria Eugenia Guevara. 0/7/2020

Great food! Great People! They were incredibly quick to take my order and when they arrived it was set up quickly. Their menu has so much to choose from and the staff is quick to respond to emails and calls.

- Hunter Scrivener. 11/17/2019

Very professional, great tasting food, we use them before we even think about using anyone else. Jose and his team is amazing.

- Felecia Brown. 11/11/2019

We used Key Ingredients Catering for a memorial service luncheon. It was a perfect experience in every way. At a very difficult time for our family they were responsive on short notice, compassionate and made it easy for us to select the menu and then took care of all the details. The food was superb and most attractively presented.

Wonderful experience for my Birthday party! Great service and quality of products. I definitively recommend Key Ingredients Catering for parties with more than 20 people.

Key Ingredients and Javier were great to work with. Javier was very accommodating from start to finish and our event was a success. Everyone loved the food!

Wonderful Catering service! Great food, exquisite customer service and very helpful. I've ordered from Key ingredients numerous times for board meetings and every time they are very professional, set up everything for me so I don't have to lift a finger! They also cater to specific dietary needs with no issues at all. they have lots of Vegetarian and Gluten free options that are yummy and delicious. Highly recommend!

- IEI Teachers. 8/12/2019

The team at Key Ingredients was wonderful to work with from start to finish. They were professional and flexible. As the event planner I could focus on other details knowing that they were in charge of the catering. I highly recommend them.

- Alicia Perez-Arrieta. 6/5/2019

- Sandra Little. 6/5/2019

We chose Key Ingredients Catering for a Communion Breakfast for 100 people at our church. We could not have been more pleased! Working with Javier before the event was a joy. His staff, Roseangela and Vincent, provided excellent service, were so pleasant to work with, and added finishing touches to the buffet tables/room that were so pleasing. The food was delicious! Thank you to Javier and his team for making our event a wonderful success!

- Jeanne Polcsa. 4/29/2019

I can always count on Key Ingredients to deliver the very best presentation and delicious food for any of our occasions, the latest being cupcakes with our new brand on them! I highly recommend their services!

Great experience. The paella is delicious!! The service is excellent. I ordered many times the different paellas, always with excellent results. Highly recommended.

- Maria Fernanda Trigo. 3/23/2019

Great food and excellent service. Really made my sons graduation party exceptional! Highly recommend

- Jenni hasemann. 2/16/2019

We provided lunch for an all-day training class and the wraps were a big hit. Everyone was pleased with the selection and enjoyed their lunch. Delivery was on time and easy to handle. Thanks!

- Cathy L. Yingling. 2/12/2019

Key Ingredients Catering is very reliable, we love the creativity to solve our corporate needs

- Daniel Parra. 7/13/2018

We had a really terrific experience with Key Ingredients catering. We were very concerned about price and had discussed catering options with a bunch of different caterers. We were planning a wedding for 150 people originally. When it came down to discussing price, many caterers gave us sort of a hard time or tried to avoid providing specific information. Key Ingredients worked with our needs and talked openly and honestly with us about what was possible within our budget. Other caterers were really limited in what they could offer us for our menu. Key Ingredients provided us with a variety of menu options based on our budget that we could choose from. They answered all of my questions patiently and even directed us to an amazing and affordable day-of wedding coordinator that we were also extremely happy with. Javier was our main point of contact with the company and he was basically contactable any time we needed. We were pretty novice to any type of wedding planning and felt pretty anxious about the entire process. Therefore, Javier had to deal with tons of what I'm sure seemed to be repetitive and obvious questions. However, he was always extremely responsive and would answer any concerns we had thoroughly. I really appreciated this because it relieved a lot of anxiety for me throughout the planning process. He did a venue walk-through with us prior to the wedding and took over an hour mapping out our venue plan. He took the time to help us come up with catering plans for both the outdoor plan and rain plan. He offered us helpful advice when we needed it, but also allowed us to try to have our own wedding vision come to fruition. We had a lot of small random items that we were using to decorate our wedding venue. We were also supplying our own alcohol for the event. He coordinated with us and allowed us to use his storage centers to keep our alcohol and other wedding supplies prior to the day. He took responsibility for the items even though he didn't have to and transported most everything to the venue for us on the day of. This helped make our lives so much easier because we didn't have to worry about every little item for the day of. On the day of the wedding, Key Ingredients was timely and professional. We ended up last minute having to use our rain plan for the reception area. They set up the entire room beautifully last minute. I don't think people could even tell that it was our backup option. We missed the cocktail hour that guests got to attend because we were taking photos with our photographer. While we were waiting to make our grand entrance to the reception, Javier checked on us and brought us multiple hors d'oeuvres to make sure we were fed during all of the wedding day craziness. They also brought us water and our favorite mixed drinks while we were waiting. We did a buffet dinner, which everybody loved. We ate all of the food without any leftovers. I got a lot of positive feedback from the guests on the food. As I mentioned before, we supplied our own alcohol for the event. The only criticism I can say about the event was that I did have a few different guests that said that the bartenders at the wedding cut them off from drinking when they had only had 1 drink the entire night. I also got a few complaints that the bartenders were slow, not making drinks properly, and sort of rude overall. I got these complaints from a few different guests so I think there was probably some truth from it since it was sort of consistent feedback from different guests. This was also kinda annoying for us because it may have looked like we were being cheap with our guests and telling the bar to be stingy with serving, when in reality afterwards we just had a lot of unused leftover alcohol that we didn't want and that we now had to deal with. We really depended on Key Ingredients to make our day wonderful and they came through for us in the best way possible. It was the best day of our lives so far. We would highly recommend them and would use them in the future for any other big event like this.

THE BEST FOOD, EXCELLENT SERVICE

Tasty food, excellent service, fair price

Key Ingredients has vision about food and how to make an event a real hit. They're kitchen is spotless and they are always so friendly and accommodating. This is a first rate Caterer.

- Jennifer Spencer. 0/27/2018

Is looking for a catering services that offers variety of dishes with full of flavor...Key Ingredients is the right choice.

- Laura Calder. 11/29/2017

Javier and his team always do a great job for us. The food is great and the staff is extremely professional. Key Catering has catered several different types of events for us and exceeded expectations every time.

- Vincent Sarageno. 11/20/2017

Javier and his team were stellar at my 60th birthday party last weekend. They were efficient and friendly and went well above and beyond the services I'd asked for. And the food was delicious - all my guests raved about it! I'd highly recommend Key Ingredients Caterers for any gathering, big or small.

- Fiona Mackintosh. 11/4/2017

Excellent food and great service, will use them again for catering our meetings!

- Tina Murray. 10/25/2017

Professional staff, great menu options for catering events.

- Sigma Psi Zeta. 9/4/2017

I was extremely pleased with the service I received from Javier and his staff. We booked them at the last moment for a Memorial Service and they worked with us to ensure we had everything we needed. They made a difficult situation much easier. They are an exceptional team and the food is delicious.

Javier and his staff are the ultimate professional catering company. I have used them many times now. He works with me in developing menus, some that cater to difficult dietary limitations, providing great suggestions. Always on time, with beautiful set-ups and delicious food. I would recommend Key Ingredients for any occasion, no matter how small or how large.

- Patricia Niles. 8/28/2017

We had a last minute catering order when I came across Key Ingredients online. I called Javier and he was willing to work with me on such short notice. The food was excellent and the delivery on schedule. I would recommend them to anyone! Valerie

- Valerie Lavala. 6/22/2017

Key Ingredients Catering is one of the best caterers that we have worked with. The menus are well planned and very creative. The food is exceptional and I would highly recommend them for a large or small catering event.

- Debbie Billings. 5/27/2017

We worked with Key Ingredients for my daughter's Quinceañera and it was one of the best decisions we made for the event! Javier and his team were so professional and the food was amazing! We had so many compliments about the Mac & Cheese bar and the chicken. While we did not work with them specifically for decor, they did help spruce things up and I am sure they would be great for that additional service. I am so glad we worked with Key Ingredients and definitely recommend!

- Lisette Engel. 5/21/2017

Best catering business in the area!

- Brady Wilson. 5/19/2017

Fresh excellent food, beautifully prepared and flavorful! definitely lives up to its name!

- Devoted To Your Event. 5/19/2017

Fantastic food and great service. Javier runs a tight ship!

Excellent service and execution

Key Ingredients always deliver on time and the food is very good!

By far the best salmon I have ever tasted! And it was catered! Key Ingredients Caterering has fantastic food, kind servers who are very professional, they are easy to work with in planning the menu, and are reasonably priced. I highly recommend using KIC!

- Catherine Campbell. 4/29/2017

Very happy with their service Very professional and availability great food and competitive prices Thanks for everything.

- Francisco Javier Reynoso. 4/24/2017

The Key Ingredients team was professional, flexible, and easy to work with! The guests loved the food, and the table setup was gorgeous. We will definitely consider Key Ingredients for our next event!

- Rachel Withington. 4/16/2017

They were amazing! Javier, the owner, was great to work with. He was able to make a custom menu that fit with my budget that not only fed my group, but was DELICIOUS (make sure to get the empanadas!). His team was very professional, arrived early, and had everything set up without needing any direction from me. I would 100%% use Key Ingredient in the future; I cannot recommend them enough!

- John Sakakini. 3/13/2016